Advertisements
Announcements
First ad in series has a compelling budget theme and is set to be launched in time for Chancellor Alistair Darling's first budget on Wednesday 12th March In a brand new ad campaign launching this week, North West based CW Advertising has used its considerable creative flare to showcase its marketing communications expertise.
The campaignfrom 1DayBanner.com kicks off with a budget themed ad designed to appeal to shrewd entrepreneurs keen to make cost-effective use of available resources and, at the same time, add value to their businesses and build their brands in a way that has real impact on the bottom line. Explaining the decision to use their expertise to promote their own services, CW Director, Paul Bury says,
"We opted for a themed ad campaign linked to topical events to demonstrate our marketing expertise. The first ad in the series is being released to coincide with this year's eagerly awaited budget announcement on 12th March. We thought this would be a great way of getting the message across that we are happy to work with economically minded but far-sighted businesses to develop integrated marketing strategies that have a real impact."
With 25 years experience of providing tailored services to a wide range of clients, CW is the marketing communications company of choice for those with a reputation for prudent but effective business acumen.
For example, CW has recently worked with the long-established and well respected Greater Manchester shirt company Rael Brook to develop a brand new e-commerce website.
BASF ® Ltd, the world's largest chemical company, relied on the creative team at CW for several fast turn around marketing projects including a looped DVD Video presentation.
Bolton's newly established furniture retailer, Rivington Taylor also came to CW for their fully integrated marketing strategy whilst Burnley-based leading designer and manufacturer of specialist lighting, ACDC entrusted their recent corporate re-brand project to CW.
Leading the way in Property Marketing, CW is responsible for the marketing of some of the region's most prestigious property developments such as Gladman Development's Hurricane & Estuary Point developments in Liverpool, the Investment sale of Manchester's infamous "Printworks" as well as Yorkshire based developer & builder, Marshall/CDP's rebranding of Cheshire's Daresbury Park, Cheshire's most prestigious Business Park.
Their experience in these markets continues to go from strength to strength with numerous campaigns running both nationally and worldwide.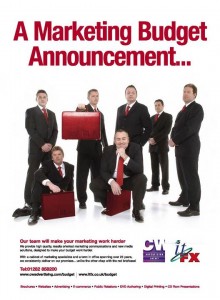 Posted by Creativeworld on
11th March 2008