Announcements
This, the third in the CW & ITFX series, continues our themed approach of linking to national events as a means of maintaining CW & ITFX's position in the creative marketing arena. This time we gave our guys the opportunity to be 'Bond' for a day – bringing a wry smile to all concerned.
Timed to coincide with the national release of Quatum of Solace, the responses we have received have been fantastic. This 'tongue in cheek' approach demonstrates our ability to focus our marketing expertise and knowledge while really enjoying what we do. A quality that is certainly reflected in every finished project that out clients receive.
All marketing needs to be up-to-date, interesting and topical – but most of all enjoyable! As you can see from the artwork, Simon and Paul were certainly enjoying the day!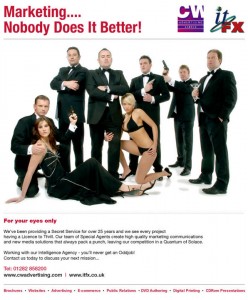 Posted by Creativeworld on
31st October 2008