Announcements
December 2012 saw the birthday of our very own Simon Swindells, and while another year has passed all too swiftly, many of us can still remember that 'fresh-faced young pup' that joined us all those years ago.
A lot has changed over the past 22 years, but the main thing that we can all be grateful for we're sure you'll agree is the change in hairstyles!
Gone are the days of the 'Miami Vice' quiff and those raucously' loud' ties. We're sure you'll all agree that Simon has finally embraced his 'inner-fashion-conscious-self'!
So here's to you Simon – Happy Birthday and we look forward to seeing you in the very latest 'must-have' fashions that 2013 has to offer!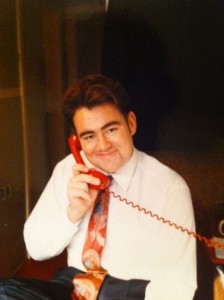 Posted by Jack Dyson on
3rd January 2013