Announcements
Commercial Property
Design
Interactive
Marketing
News
PR
Website
The city of Aberdeen, known as the "Oil Capital of Europe" to many, can boast having the UK's most vibrant economy outside of London. It is a city of exceptional financial strength, which has thrived even through the current economic struggle we currently find ourselves emerged in.
So when one of the city's largest investment opportunities became available for acquisition earlier this year, leading property agency, Cushman and Wakefield, were keen to bring in a commercial property marketing agency that had the pedigree and expertise to market such a scheme.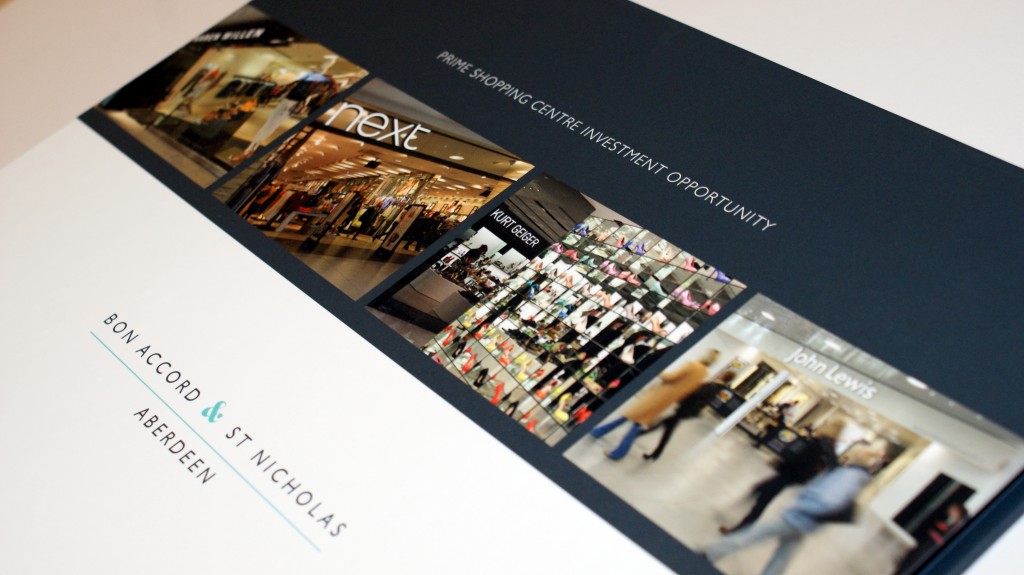 Bon Accord & St. Nicolas shopping centres dominate Aberdeen's city centre retail offering, with a combined annual footfall of over 13 million visitors a year.
With our reputation in commercial property marketing and with our ever growing collection of bespoke investment portfolios under our belt, we were exclusively appointed by the Cushman & Wakefield retail investment team to create and produce a full marketing campaign for the prestigious investment opportunity. On the recent news Creativeworld's very own James Wood commented. "When a scheme of this nature becomes available to the market it is important for us as a creative agency to be able to take as much pressure off the client as possible, allowing them to focus on the sale of the investment, which in turn allows us to do what we do best. We have always enjoyed a strong working relationship with the Cushman & Wakefield team; they know what we are capable of and know how we pride ourselves on our high quality of service and design."
We felt that Creativeworld understood our requirements and we were particularly impressed with the speed and accuracy that our edits to the brochure were made.
As a leading property marketing agency posing unparalleled experience, for well over 20 years, we were able to offer all the required skillsets and guidance needed to create stunning digital and printed literature of the highest quality for the Bon Accord & St. Nicholas scheme.
"Time management plays a huge role in what we do here, from the organisation of onsite photography through to the designing of maps, charts and page layouts, it all has to be done within the time frame provided by the client."  James added.
When instructed on a job of this scale, it's important to first identify what is required and to act on it swiftly, something the Creativeworld team are more than capable of doing. A bespoke, 72 page, portfolio was produced, filled with artistic photography of the property, custom maps and charts designed and included detailed in-depth analysis of the site's financial standings, along with information about the area's unique history and heritage. The portfolio was also built into an interactive brochure format.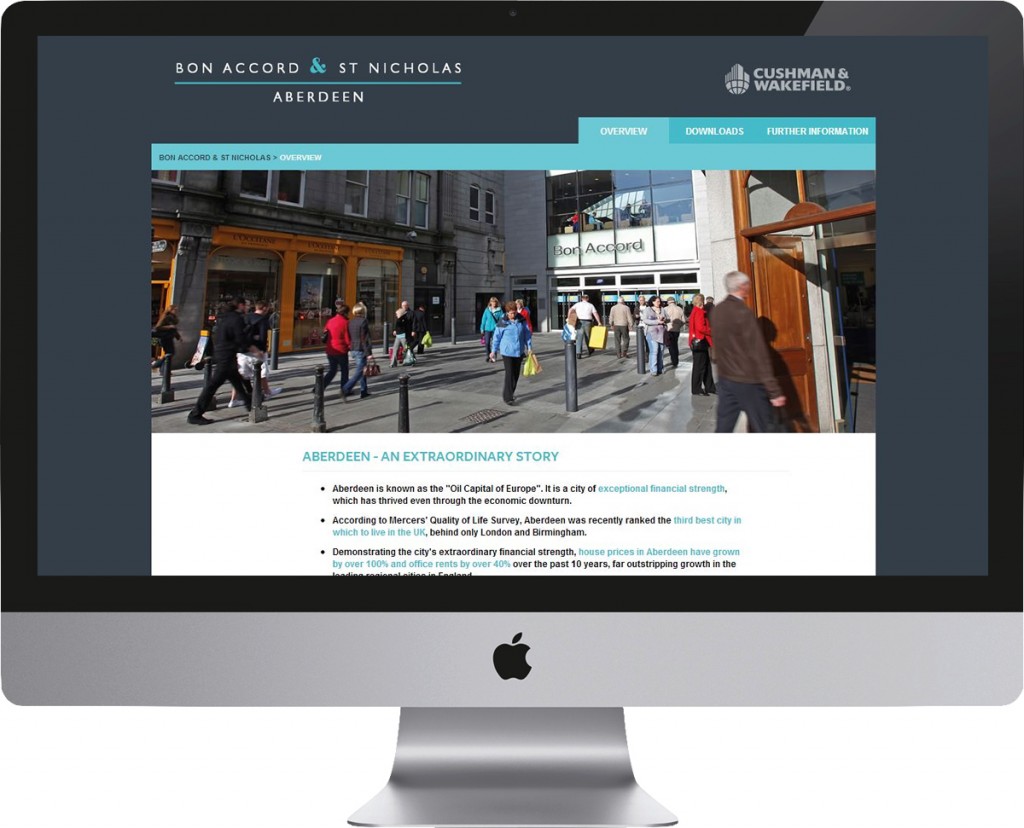 To compliment this, a custom built interactive website was designed and developed. The site included a variety of fully downloadable documentation, which could be accessed through a secure login data room. Downloads could also be monitored through a statistics segment, with site traffic readily available to the vendor when called upon.
On the recent work Cushman & Wakefield's Imogen Bryan added "Creativeworld worked incredibly efficiently to create the right brochure for our prime shopping centre investment sale: Bon Accord and St Nicholas in Aberdeen. We felt that Creativeworld understood our requirements and we were particularly impressed with the speed and accuracy that our edits to the brochure were made."
23rd October 2013